Remember this post all about the "Fear Factor" in Lao markets? Well I have to admit that whilst "extreme" foods are not really my cup of tea to eat, looking at them is a whole different matter. I braved the markets with my camera, trying not to pay too much attention to the actual origin of the various body parts and insects I was snapping photographing! Neil, of course, ate some bee larvae in the market that stung his mouth – I'd say he was asking for it but he said it was "for the blog"! The people on our market tour were also impressed that Neil was taking one for the group since they, like myself, seemed to prefer to look and photograph and let someone else do the tasting.
If, like me, you're a timid taster but fascinated by unusual cuisine, you are going to LOVE the new show on Food Network Canada premiering tonight, called, appropriately, Extreme Cuisine with Jeff Corwin. An Emmy-winning television host (you may remember him from Animal Planet's The Jeff Corwin Experience and Corwin's Quest), Corwin believes that food is the glue that cements together a community and culture.
According to the press release, in Extreme Cuisine, Jeff "sets his sights on exploring human culture through regional cuisine in his first Food Network endeavour. This thrilling series follows the passionate foodie and anthropologist as he tears through exotic countries like Thailand, Mexico, Greece, Morocco and Peru on radical culinary adventures. Learning from the natives, he samples the indigenous foods, including silk worms, dancing shrimp and pigeon pie, and absorbs himself in the local customs that shape each unique community."
I had the good fortune to view the first two episodes of this new series en avant première, courtesy of Jessica, the Publicity Coordinator for Lifestyle Channels from CanWest who contacted me after reading my writeup of Jamie Oliver's talk in Toronto. She thought I might be interested since it deals with two of my passions – food and travel. Neil, on the other hand, thought he would be perfect to host the show since he really is fearless when it comes to eating weird foods… Uh huh…

Chapulines anyone?

(image courtesy of About.com)
Or how about some escamole?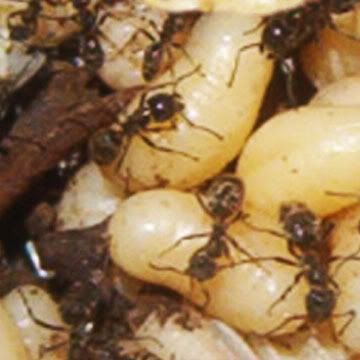 (image courtesy of Top 10 Kid)
If grasshoppers and ant larvae aren't your cup of tea but you'd enjoy watching someone else test the waters, then this is the show for you! Jeff is an affable host, very open-minded (and mouthed!) and in the two episodes I watched (Mexico and Greece), I was impressed to see him making an effort to communicate in the local lingo. Many of the folks he visited and cooked with did not really speak English and this made a refreshing change from other travel and/or food shows.
Many of us know what it's like being in a foreign country where we don't speak the language (and don't know what food we are ordering!!!) and how we have to sometimes pull out all stops to make ourselves understood. Watching Jeff interact with the local people – as he gestures and charades when language fails him – was very real. Jeff is charmingly awkward sometimes as he jokes around and makes puns which don't always translate. Those of us who have lived in or visited a foreign country will have experienced this feeling so it simply adds to the genuine feel of the show; Jeff seems truly interested in finding out about the different foods and culture/eating habits of the countries he visits.
If there's anything the show is lacking, for me it would be more information about the places they visit but since it is a food (as opposed to travel)-centric show it's probably not reasonable to expect that they include even MORE info – then it would be a different show, right? 😉
If you're into travel and food, especially watching other people eat the food you don't dare to try, then you will want to tune into Food Network Canada tonight, Thursday January 7th at 9pm ET (6pm PT). If you do, please leave a comment here after you have watched it – I would love to hear what you think! I know I will be checking out future episodes to see where he travels to and what strange food he's eating!!!